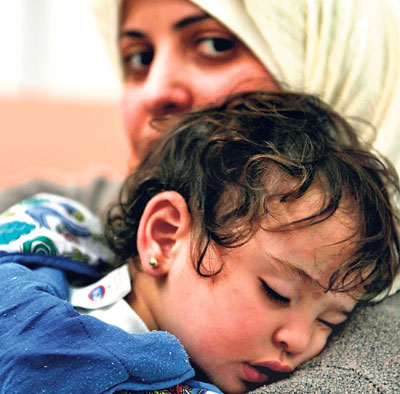 They fled in fear when the US invaded their country. Now the US has left, but they are too afraid to go home.
Many Iraqi refugees in Jordan - estimated at being between 500,000 and 750,000 - fear the chaos is not over. Indeed, it may be about to get worse.
"We have a situation where this population doesn't have that many options left," said Arafat Jamal, the acting representative in Jordan for the offfice of the United Nations refugee agency.
"They can neither go back home nor integrate where they are."
Almost as soon as the last US troops drove across the border into Kuwait last month, a political crisis erupted in Iraq that underscores the dangerous ethnic and religious divisions in the country.
Most refugees fled to Jordan or Syria, jamming the long roads out of Baghdad with cars overloaded with personal belongings, what little they could carry.
For many, both places offer bleak refuge. Barred from working, many of the women resort to prostitution. Children drop out of school to beg for money and food.
Now, the international support for the refugees is falling, said Mr Arafat.
The UN High Commissioner for Refuges (UNHCR) needs money for Jordan's 31,000-registered Iraqi refugees - for everything from food to psychological counselling.
But the funding fell US$20 million (Dh73.5m) this year from $63 million last year.
Most Iraqi refugees hope to resettle in the West but, Mr Jamal added, even those rare opportunities are dwindling.
"The European slots have largely vanished," he said, saying that was a symptom of diminishing international interest in Iraq's refugees.
Picking up some of the slack has been the United States, which was initially criticised for taking in scant numbers of Iraqis at the height of the refugee crisis.
Rights groups say the US has deserted thousands of people who work for it Iraq and Afghanistan, leaving them vulnerable to revenge attacks.
Since 2007, the US has admitted about 62,000 Iraqis and accelerated the relocation of those targeted for working with US forces in Iraq.
Dozens of government and non-profit agencies have been tasked with settling Iraqis, giving them money, housing and jobs.
But even a transition to America can be traumatising, said Sandra Vines, associate director for resettlement and integration at Church World Service, a Christian-aid organisation helping Iraqi refugees in the US.
There are cultural-adaptation issues and, of course, festering resentment because of the US invasion, she said. Iraqis who are lawyers or doctors struggle with the entry-level jobs offered to them.
"Lifting boxes in a warehouse compounds that sense of loss and a sense of alienation that one would feel in a new country," she said.
Andrea Lari, director of regional programmes at Refugees International, a Washington-based organisation, said the US should expect a surge of social problems from its Iraqi-refugee community.
US authorities had not taken into account the high levels of psychological and physical trauma and difficulty in assimilating into a vastly different society, he added.
"Yes, families may have been resettled. But there's no pre-existing safety net that's here to help integration," he said. "I've heard many accounts of Iraqi refugees who are so frustrated that they want to go back to Iraq, or at least somewhere else."
But America is morally obliged to take in more Iraqis, 17 humanitarian organisations said in a letter to the US president, Barack Obama, last month, the day after US troops were withdrawn from Iraq.
"Our obligation to address a refugee crisis, born from a war we started, does not end with troop withdrawal," said the letter, which was signed by organisations that included the Hebrew Immigrant Aid Society and the Lutheran Immigration and Refugee Service.
It warns of worsening conditions for refugees stranded in Iraq and especially in Syria, where pro-reform demonstrations have been brutally crushed by President Bashar Al Assad's security forces.
The UN says more than 5,000 people have died.
The letter said applications for about 10,000 Iraqi refugees in Syria to resettle in the US are on hold.
But as many of 40 per cent of them may never make it because of recently enhanced security checks, even though many "pose no obvious security risk", the letter added.
Those elevated checks come after two Iraqi refugees arrested in Kentucky in May for plotting attacks on Americans in Iraq.
But Kareem Al Haidar, 51, dismissed security concerns as a reason for America to deny him resettling there.
He believes the US owes his family, and all Iraqis, a special responsibility for "destroying my country".
His family fled to Amman in October after masked militants threatened them in their home in the Iraqi city of Ramadi.
"If we stayed, we all would have been killed and the women would have been raped," said Mr Haidar, a Sabian.
Now jobless and living on UN handouts, he longs to take his family to America.
But his hope is flagging.
"When people ask me about my situation, I feel pain," he said.
"There's nothing I can do for my family's suffering."